Remarkably the discounts (for Fuji – didn't check others) were decent.  Infact in some cases better than the best recent price on CameraPriceBuster.
So, what did I get?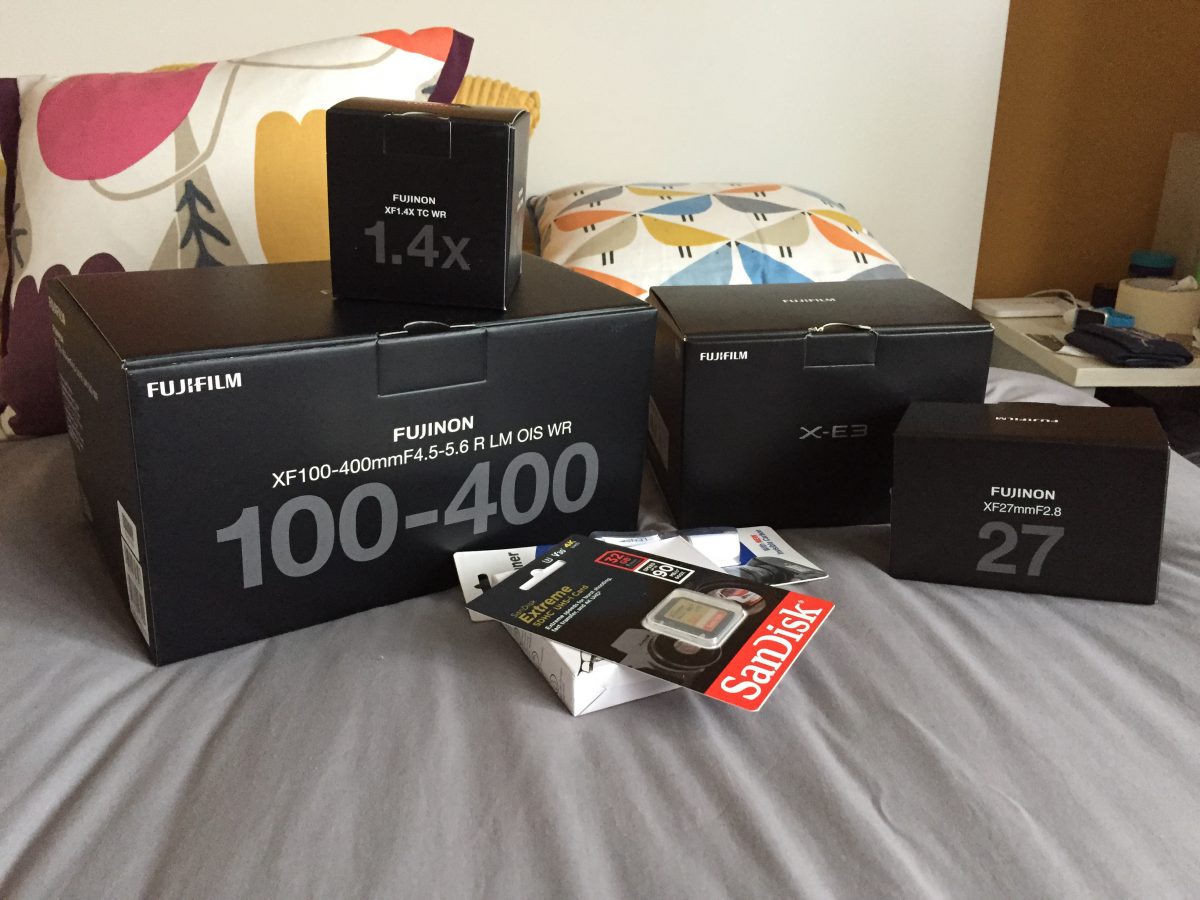 To recap (like an annoying Channel 5 Documentary) I was looking at the following:
100-400 + TC (Lowest price and current £1490/1649)
18mm (£400/479)
27mm (£319/349)
Fisheye (£212/219)
Battery (£41/46)
Fortunately a Facebook/Forum friend (Alec) offered me the Fisheye for £130 – he was awaiting an Ebay purchaser that never paid up – so a win for me.
A further win was the 100-400 + TC being on offer for £1479, so that was snapped up fairly quick (along with a lens pen and lens wipes for an extra £10).
During the week I was thinking about picking up an X-E3 and 27mm to use as my carry to work camera (not wanting to take my X-Pro 2) – so that combination was grabbed as well.  The X-E3 was £100 less and selling for £699 – the 27mm lens wasn't discounted too well,  at £339 it's just a tenner off the normal price – however if bought with a X series camera another £50 was taken off.    I did ask for offers on this combo and they eventually got it down to £969.60.
As I needed a SD card I picked up an Extreme SD card for £16.50.
So all in, I paid Wex £1615.10 as I had £850 in store credit (Total £2465.10)
So with regards to lenses I managed to do a Meatloaf – two out of three ain't bad.  I did have a look at the 23mm and X-E3 bundle, but found the protrusion of that lens a bit too much – Likewise the 18mm was a bit bulky.
I didn't find any Fuji Batteries at decent prices, so I'll probably pickup some Hahnel branded ones online – they seem to be a reasonable 3rd party replacement from a recognised brand.   I'll need to pick up a small bag for the X-E3 – I had a look at the show,  but couldn't find anything small/protective enough for my liking.
Overall I enjoyed the show and it was quite an expensive day – but mostly paid for by my Canon trade ins.