Well, it should have one really.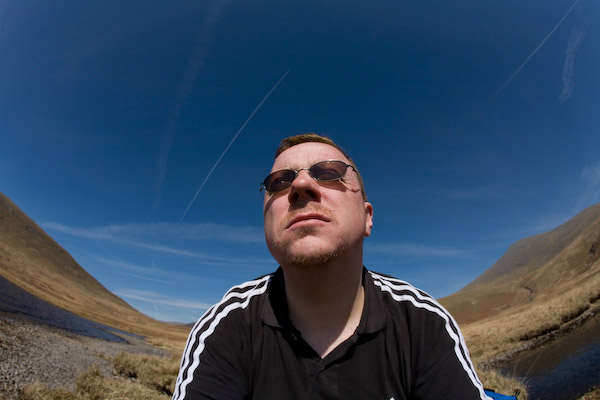 Picture sums me up really, Ginger bloke with a camera (not in this pic!). I also do IT and bad grammar.
Me IT bit: Well I've been working in IT since 1986. Started on a YTS scheme paying a vast £27.30 per week, but slowly progressed up the ranks of employment. First proper job was with a small systems company called Novar Computing. Long gone I think. Anyway started off as a trainee, making tea etc. Then moved on learning such stuff as Xenix, Unix and DOS network. Towards the end this small app called 'Windows' made an appearance.
Anyway things move on and so did Novar. As maintenance revenues decreased it became harder for a small company like Novar to keep going. So they sold the maintenance side of the business to a company called Radius. Now Radius were a much bigger company and they taught me fuck all in the 2 years I had the pleasure of working there. To be fair the first year wasn't bad, then our manager changed to a nice man called Liam. Who's trouser support was probably the most impressive piece of fabric engineering I've ever seen. So after an appraisal where he came out with a quote that went along the lines of 'I'm talking to you today because I'm not sacking you' I decided to move on. Still as an incentive to improve (despite them sending me to calls on stuff I'd never seen) he offered me an extra £200. That was a year!.
Whilst being at radius I started to dabble with C programming, just to pass the time. Right things moved on, my wife (girlfriend at the time) found an ad in the local paper for me. So to cut a story short, I apply got the interview and got the job. Started at MCS as a field engineer (as other jobs were). But in time progress in to technical support and in the end Server builds and installations. I enjoyed my time at MCS (then changed to Sectornet) despite my odd bad time. But all things come to an end. After 10 years the company was restructuring itself so the service side bit the bullet again.
This time redundancy. 10 years almost to the day I left, with 12k and the company car for 3 months! I always thought of contracting, so when the redundancy happened it gave me the opportunity to start. After a frustrating month without work I landed a contract. Kings Edwards School for Girls! Enjoyed as it was quite easy, had to put up with an assistant who 'wanted my job' though. Still got through that and worked for SCC at Birmingham Council. Left there and went to Warwickshire Police for a 3 month contract. Then Brum Council called me back to join again. This time no agency, so all the cash was mine! I needed to form a company which I did. Now just completed my first year of trading. And that's my IT career in one short(?) page.
IT Section 2!
Apart from my working career in IT I've also started a number of different IT related hobbies at home. First one of these was programming. Now I've never been a programmer and something I just didn't get. Still managed to get a number of small programs up and running. Next bit is Web design. Once I got broadband i discovered the HTML. Started off quite small, mainly the web equiv of 'Hello World'. But steadily moved on to more complex site. Mostly for fun it has to be said, but I've enjoyed making my own site. Few people have asked 'what did you use to build the site'. The answer 'Notepad'. Started off hosting the sites on a Windows 2000 server box, which was fairly stable. Then moved onto Windows 2003 server, which never broke (unless I broke it). Now with my move from Microsoft to Apple, all my sites are hosted on Mac using Apache Web Server and PHP/MYSQL. It's not done anything much better than the Windows box (other than running much quieter).
Photography
I've always had an interest in photography since I was about 12. One day I was going to get a SLR for myself. Save me borrowing my brothers quite weighty Chinnon.
Anyway years go by and eventually I decide to get a Canon EOS 500, twin lens pack from shock horror DIXONS. It started me off. Upgraded a few things, then spent big money on a EOS 50E. Now this was something I'd wanted for a long time. Was very pleased with the camera.
As with all things you start looking around, I discovered Medium Format. So I bought a £30 Lubitel TLR. TBH it's built like something free with cornflakes. But it did a reasonable job. Next MF camera was a Mamiya TLR. Built like a tank, but still quite usable. My ideal MF camera was either a FujiFilm GA645Zi or a Pentax 645. Eventually went for the Fuji. I bought it and used it a fair amount, then I got a little lost with my photography. Started scanning and putting images on my website, but not really shooting much.
I reality I knew I should be using Digital, still the EOS digital cameras weren't up to a great deal then and they were a high price. So for a few years didn't do a lot. Once our daughter was born I started to use my (crap) Sony digital camera a lot more. And eventually borrowed my dad's digital which was much better. During this first year for Rachel i used my Fuji and 50E a bit more as well.
I guess this is when the bug started again. I knew the Eos digital was getting better, but I still didn't like the size. Eventually the 20D was released, so prior to Focus 2006 I visited Jessops to try. It's a nice camera, but I made the mistake of trying the 5D. In my opinion the 5D was the camera to replace the 50E. Build was solid and it was large. I also got it into my head that the 20D would make my wide angle lenses not be so wide (which it would) so I'd have to replace them.
In the end it seemed sensible to go for the 5D as building into the costs of upgrading lenses etc it was only a couple of hundred in it. So the 5D it was. Since then I've got rid of all my old lenses anyway and got addicted to L glass.
So where from here? I feel my photography is good, but would like a little more knowledge. So I have decided to start a diploma in photography. Also this year I do want to start to build a stock library of images. Hopefully using the freelancers year book I might get some pictures published. Small acorns and all that.