O.k. it's not new but a Fujifilm refurb sold on Ebay by a bloke called Tim who sells cameras converted to Infrared (he may sell normal stuff as well).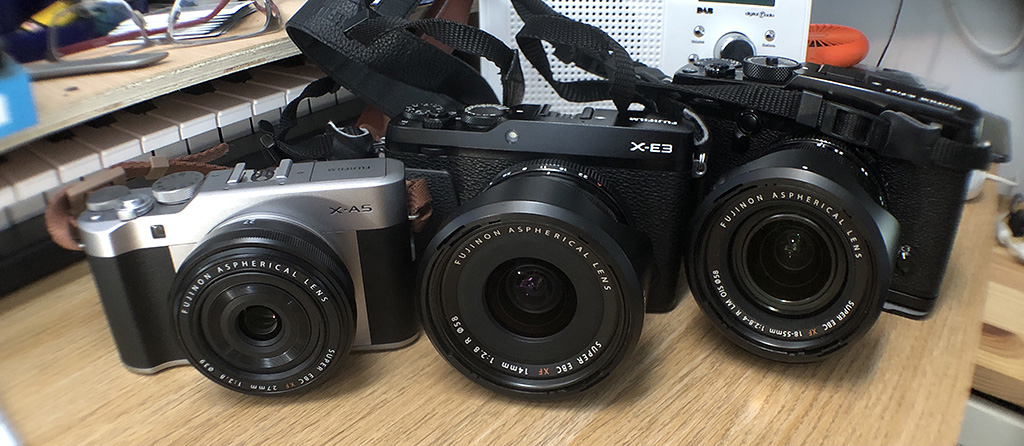 The X-A series is unusual for an interchangeable lens camera as it's lacking a separate viewfinder, however you have a large touchscreen LCD which can be articulated up and down.
I'd noticed the X-A series when I was looking around for a carry round camera, but my preference is a viewfinder rather than a rear LCD screen – so I had pretty much ignored it. Pity really as the camera is really solid and actually construction wise feels better than the X-E3. Anyway, so why buy if I hate the view finder so much? Well, the truth is cost. This unit was £220 delivered, I could've picked up a X-E3, X-Pro 1 or a XT series for another £100/200 on top of what I paid, but I figured this is a trial run so I went with a camera that has a similar sensor to my existing kit at the lower price (you can get some older X-A models for £185) and maybe if IR is something I look to do more of then maybe then I'll consider the more expensive kit later on.
With IR there are options as well, conversions of camera can have various filters fitted, or if you want you can have a Full Spectrum conversion which I believe you need to use filters on lenses to achieve the effect you want. Other typical conversions are 520nm, 680nm, 720nm and 850nm. I went sort of towards the middle and bought the 680nm camera (although I cocked up and ordered the 850nm, but that was sorted by Tim). The fixed (frequency/light wavelength?) models are just that, although you can add filters to the lenses for some of them to get similar effects – this is where it can get complicated hence why I just picked a model and IR level and stuck with it.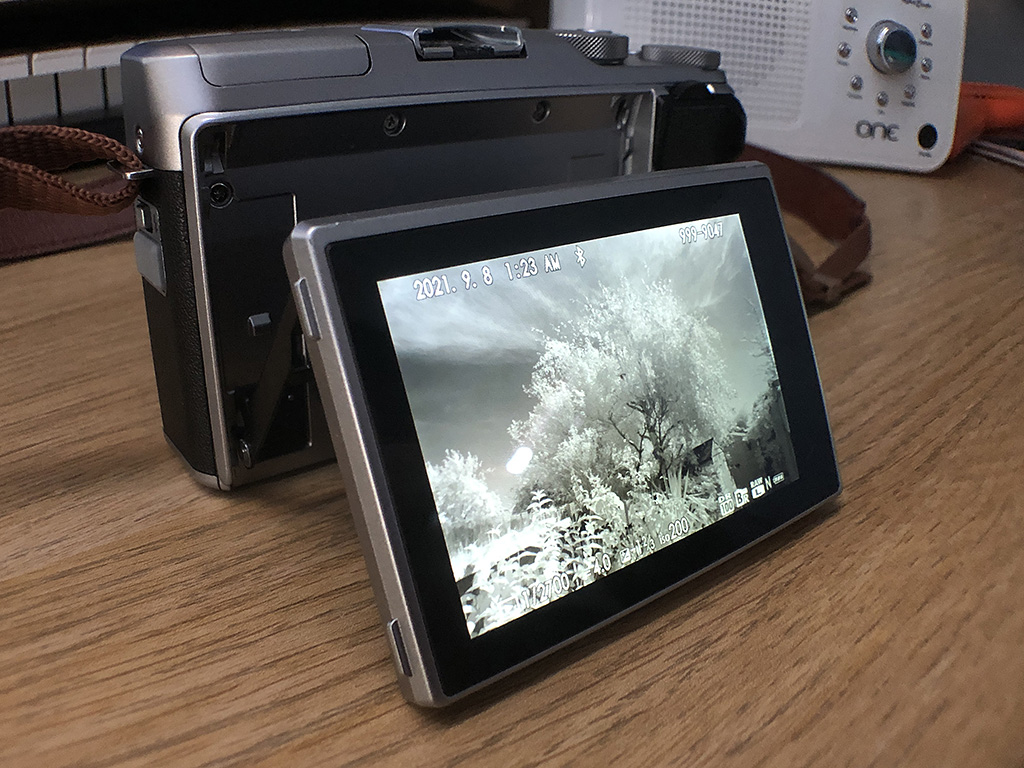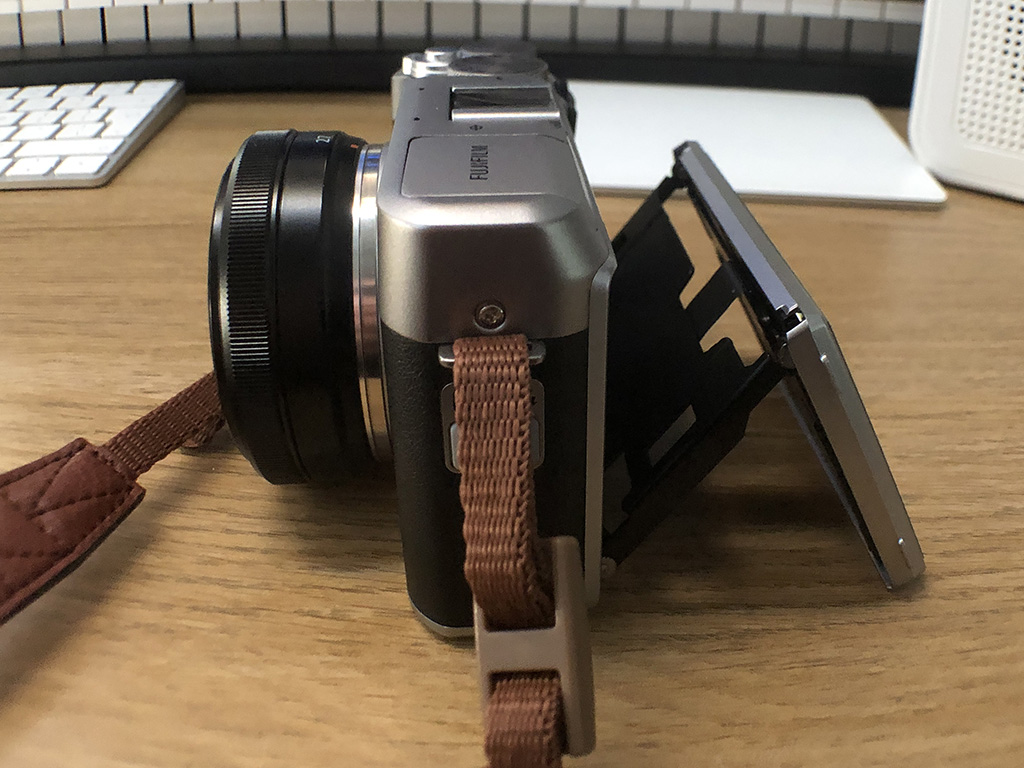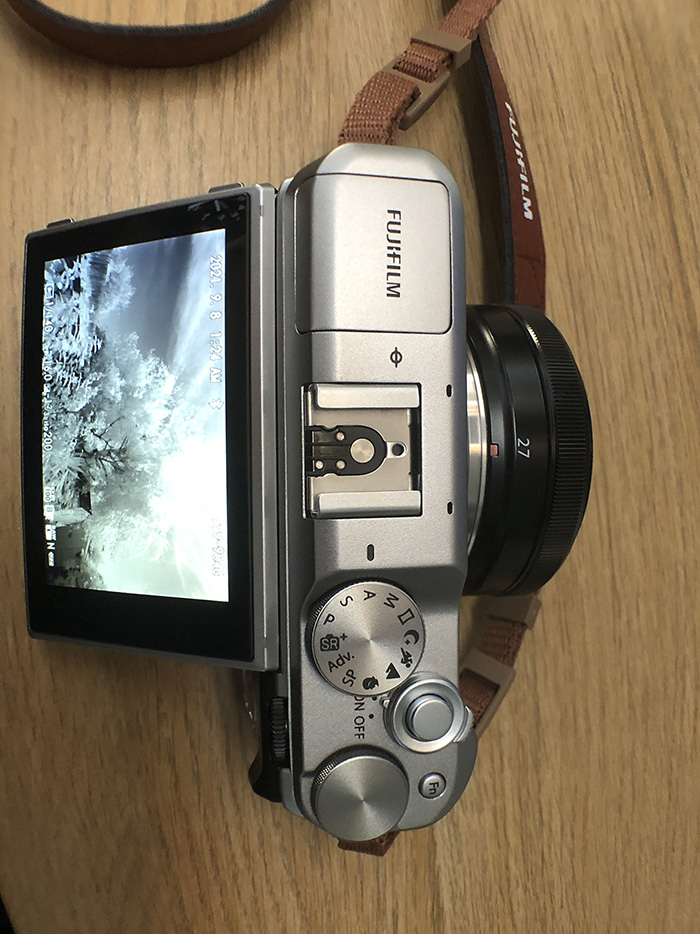 The menus are similar to the other X-Series cameras I use (X-Pro2/X-E3) so learning wise it's not too much of an issue. This camera does have a touch screen, which is useful – but was annoying when I kept accidentally changing the AF settings (typically this is a switch on the front of the other X-Series models). The LCD is clear and large enough for me to use comfortably. I have a touch screen option on the X-E3, but I disabled that as I felt the buttons on the camera gave me the control I wanted. Maybe after using the X-A5 I may revisit this.
As with a lot of smaller cameras you typical loose some of the command dials. This camera is no exception to that, after years of have Canon Eos and now Fuji with a front and rear dial how will I cope?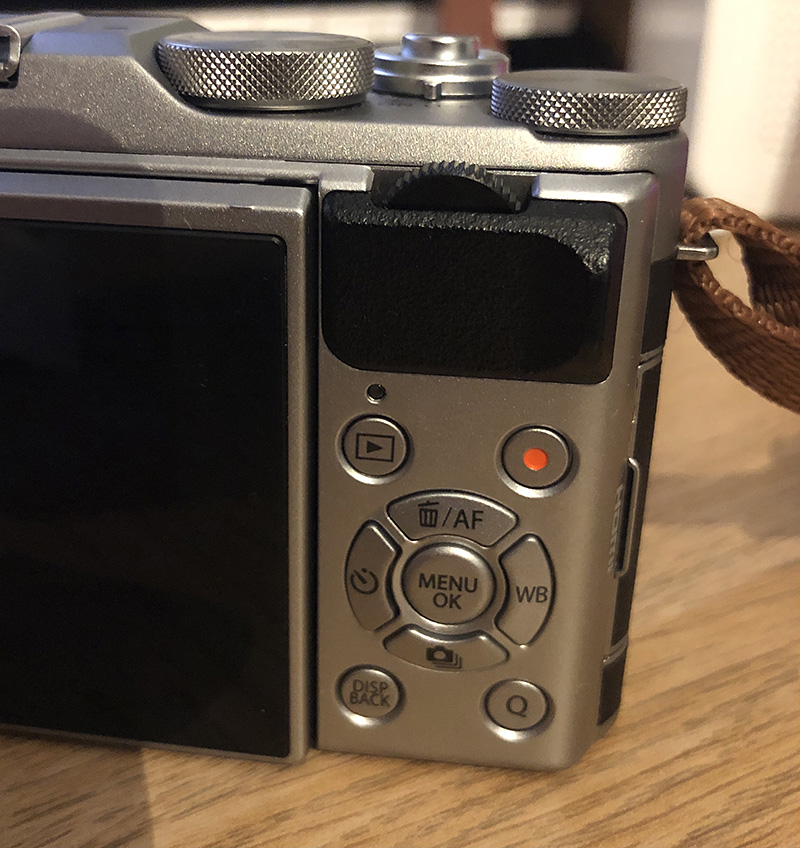 The truth is, the really small black command dial behind the thumb rest works really well. I mainly shoot in Aperture and have done with most of my cameras, so one dial is fine. If I use manual mode then the command dial on the top right is used for Shutter Speed (its normal role is for exposure compensation).
The camera as you'd expect is compatible with X Series lenses, and yes I did try the 100-400 on it (not with the 1.4ex though!). One of the advantages of another X-Series Camera is another battery – so that's 3 decent batteries now, I've got a couple of compatible batteries which work fine most of the time. With the compatible batteries I have the camera and battery never seem to be able to give a reliable usage indication so they tend to die at around 50%.
Another plus of similar spec'd models is this camera also works fine with the Fujifilm App on my phone – allowing me to easily upload and edit files when I'm out and about without access to my Mac and Lightroom.
So what's the appeal of IR. Not sure, I tend to see the occasional image and I like them. IR images tend to be either Black and White or a Fake Colour – both can look really nice or terrible to be honest. For me I'd probably lean initially to Black and White as it's much easier to deal with.
The raw file out of the camera looks odd, like a Bladerunner 2049 image where someone's gone mad with the colour sliders……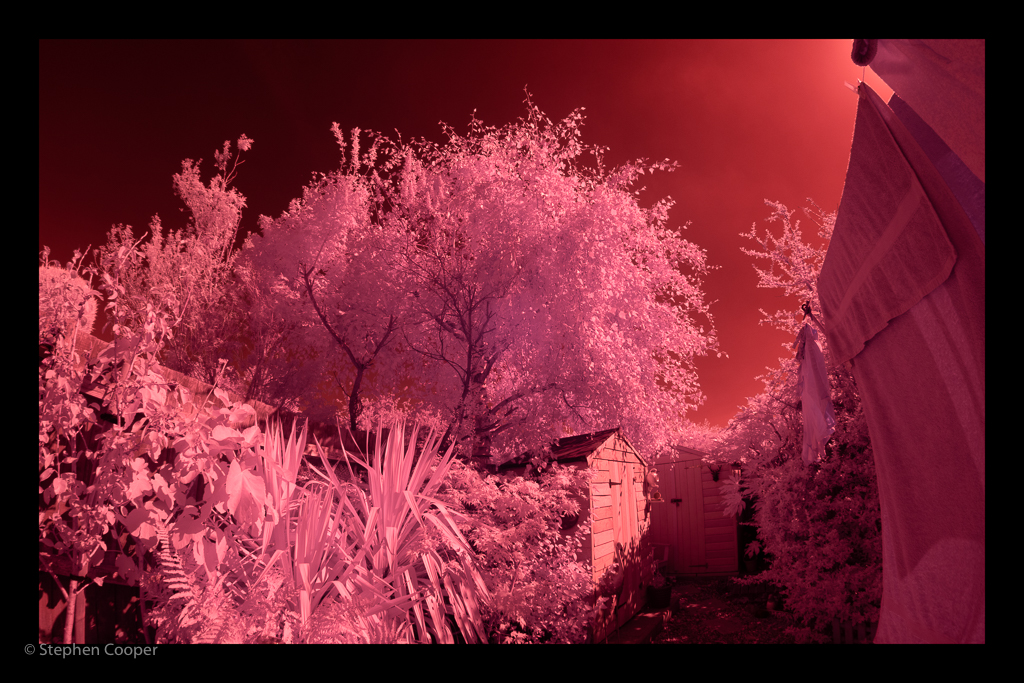 As you can see it looks odd, Black and White controls it to a certain degree, but it still looks strange. There's a number of decent blogs/websites than explain the reasons, but I'll settle for 'I like the effect'.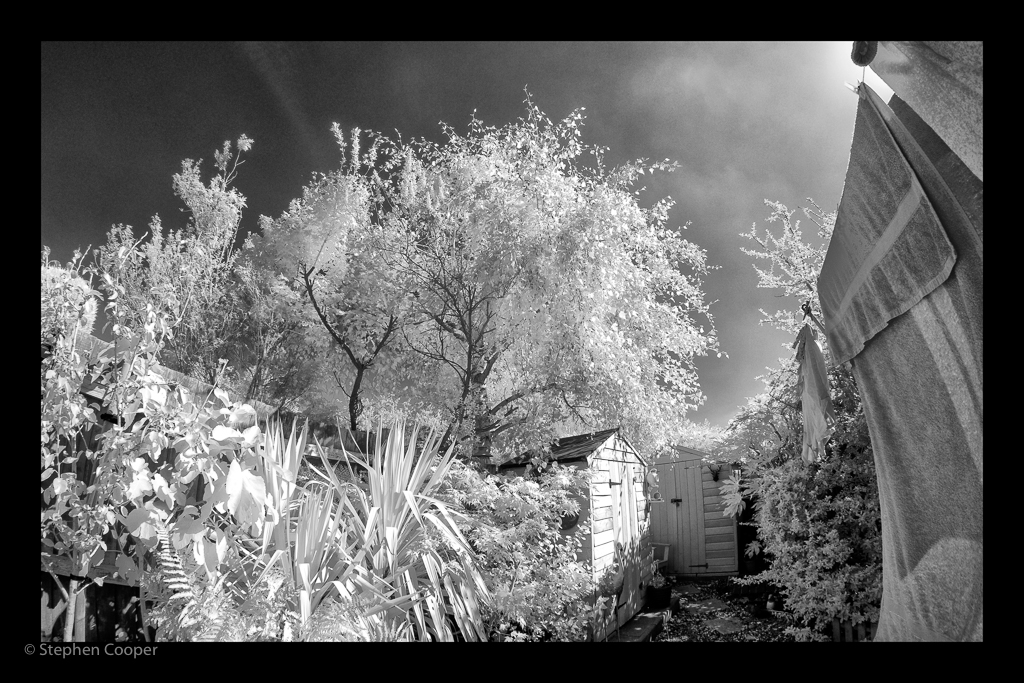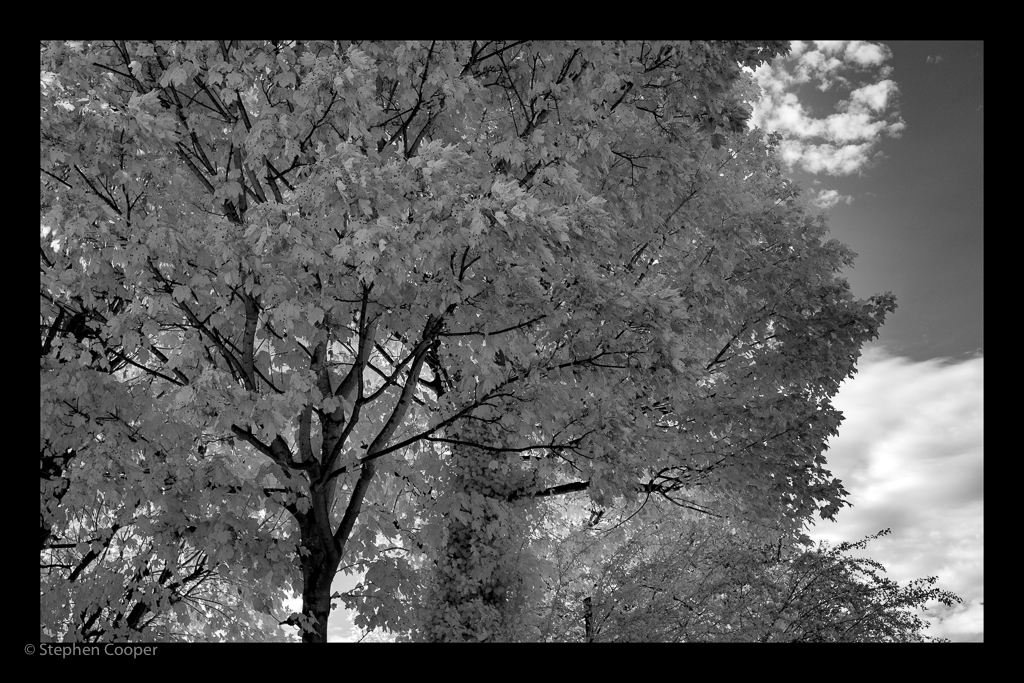 You may or not be able to tell, but the IR filter on the camera really shows the black spots on the leaves for this tree. Not sure if that means the tree is doomed or not.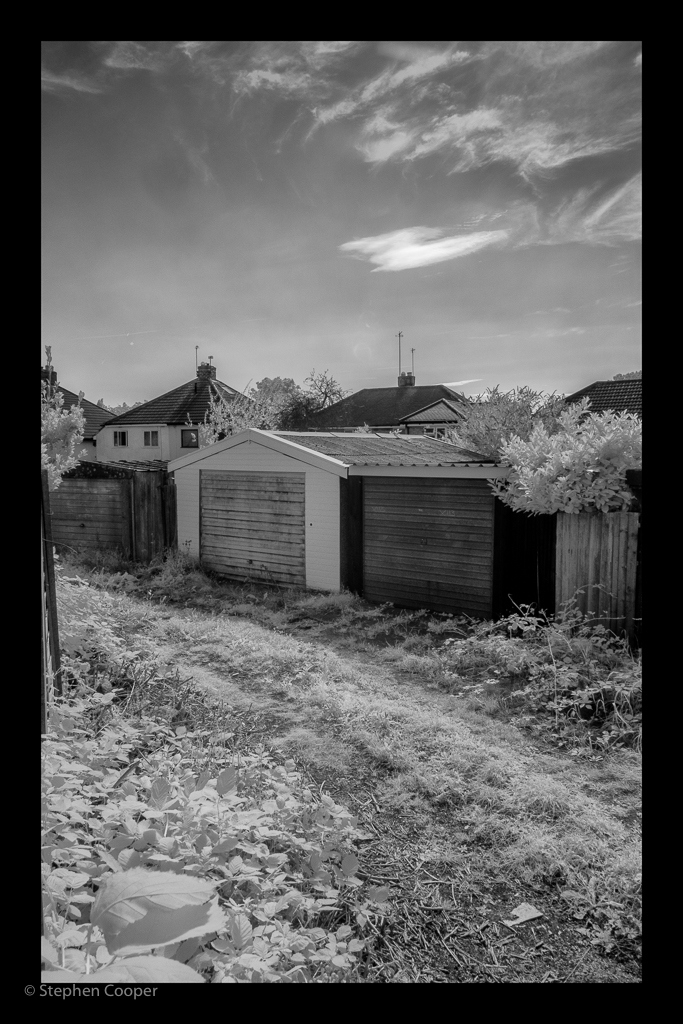 We'll end it here, as you can tell I've not really had the time to visit anywhere decent other than my back garden and over the fence into the drive way. But I guess I had to start it somewhere and to be honest the IR selfies I took were disturbing.
Hopefully in the next few weeks/months I can get out to more exotic places (or the country side around Birmingham).